Over 100,000 Global Companies Access Creditsafe Business Credit Reports to Safeguard Potential Deals and Partnerships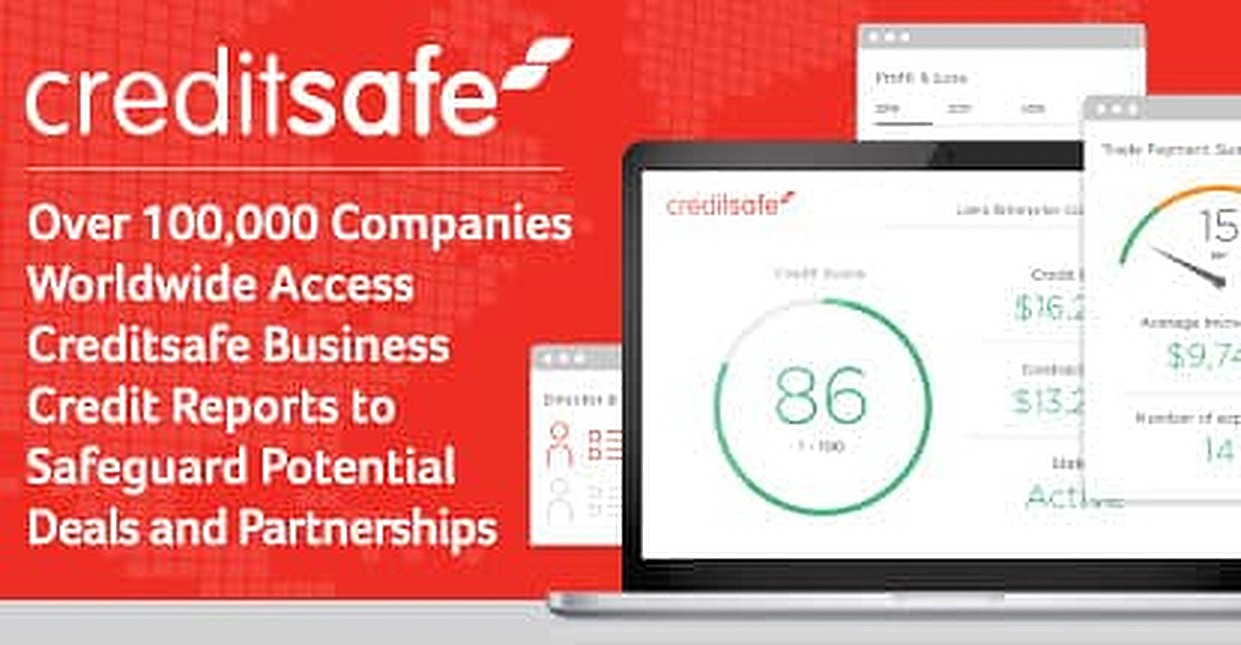 In a Nutshell: Credit reports are the lifeblood of the consumer credit world and can facilitate the process of buying a car or home, or obtaining a personal loan or credit card. The composite score gives banks a clear picture of an applicant's payment history and highlights his or her ability to make good on the contract. The same format exists in the business world, but company credit reports are often so expensive to obtain that many firms pass on the opportunity to fully investigate a company it's preparing to do business with. Creditsafe aims to change that with intuitive business credit reports that provide a single credit score between zero and 100, as well as a wealth of background information on any given company. Creditsafe allows every customer a total of 49,999 credit pulls each year — a number unheard of in the space — with most customers saving as much as 50% off the cost of competitors' reports. inShare
The process of applying for a loan or credit card always starts with the bank's thorough investigation of an applicant's credit profile — with a special focus on payment history, employment status, and debt-to-income ratio. The bank denies applications with factors that fall outside its comfort zone. The process is fairly cut and dried.
When businesses enter into deals or partnerships with other companies, the stakes could be much higher. Equipment manufacturers often send hundreds of thousands of dollars worth of product to another business with the expectation of repayment over time. A written contract provides some peace of mind, but you can't pay your bills with expectations.
Before these high-dollar transactions take place, businesses typically take the same steps a bank would when processing a credit card application. One major difference is that pulling a single company's business credit report could cost hundreds of dollars. If that firm has affiliated companies, gathering all of those reports could become very costly.
Instead of buying bundles of 15, 100, or 1,000 credit reports that can run into the tens of thousands of dollars, more and more companies turn to Creditsafe for nearly unlimited numbers of credit pulls for a fraction of the annual cost.

Creditsafe designed its credit profiles to be easy to read and understand, with a single color-coded score between zero and 100 determining the creditworthiness of a company. The reports also provide a wealth of information on the company's credit history and any sanctions it may have faced in the past.
"A red score of 20 or below on our reports would predict a future bankruptcy," said Michael Krogermeier, CFO, Creditsafe USA. "The scores turn yellow at 50 to give a warning that a company could be in trouble. Green is a more solid company with a good history of on-time payments and no signs of warning or trouble."
And, while its competitors charge high annual fees for a limited number of credit pulls, Creditsafe allows each of its more than 100,000 customers a total of 49,999 pulls each year — making the offering practically unlimited.
"If you're going to take on any invoices from a new company, you're going to want to know their history of how they pay their invoices and the overall stability of the company without worrying about how much a report will cost you," Krogermeier said. "We provide that information at one flat rate."
Creditsafe's reports are more than a cost-effective alternative to other credit information sources. The information is so in-depth that it tends to spot anomalies in companies before they become obvious to everyone else.
"We've been predicting Toys 'R' Us to be going out of business for more than a year now," Krogermeier said. "The company filed bankruptcy about six months ago, and now it's in total liquidation. We could have told you this was coming for 18 months now."
Customers Get Near-Unlimited Credit Report Pulls
Just moments before we spoke to Krogermeier and Darren Kyle, the Business Development Manager at Creditsafe USA, the pair had finished signing up a new Creditsafe client who not only saved 70% in the cost of service compared to what the previous credit score provider charged, but also increased the number of available credit pulls by more than twentyfold.
"We generally save our customers about 50% off what our competitors are charging them," Krogermeier said. "Some have even more savings and many more credit pulls than they had before."
Creditsafe calls its policy of providing 49,999 credit pulls to each customer as Freedom Access. The policy allows customers the ability to pull credit reports without worrying about the cost or future ramifications.
"The commercial credit world has a built-in mentality where businesses worry about pulling a report because it costs them money," Krogermeier said. "Our customers can pull at will as deeply as they want. They can pull the officers' reports and other companies the officers own and not have to worry about the cost."
The option to create an in-depth picture of another company helps reduce risk and improve the chances of successful deals and partnerships.
"Creditsafe's goal is to get rid of that 'Do I pull this report?' mentality so our customers can have access to all the information they need to make a decision before they invoice a company," Kyle said.
Data Comes from An Expanding List of Information Sources
Creditsafe's reports go beyond a single credit score and also provide company background and other vital information required to make educated business decisions.
"You need to know if the owner of the company owns any other companies, or if they owned companies in the past that went under," Kyle said. "That information can show if they don't pay their invoices on a regular basis. Maybe the company isn't based in the US, and you didn't know it."
Despite Creditsafe's robust information offerings, the company isn't content with its status as an industry leader in business credit profiles.
"We're always looking to add new vendors," Kyle said. "We have thousands of companies that supply data to us. A few months ago, we added content for politically exposed individuals and people with sanctions against them to our reports. We also have OFAC information in our reports. In general, when we add more data we don't normally charge additionally for it."
Future Products Will Help Small & Growing Businesses
Creditsafe plans to unveil a series of new features throughout 2018, including the addition of more data to current reports as well as a new product designed to help small businesses establish and improve their company credit score.
"If you look at our competition, they've ignored these smaller companies because they can make more money focusing on the big guys," Kyle said. "We're opening up a new product line specifically for those small players where we actually help get them where they need to be to succeed."
Despite the enhancements and growth of the Creditsafe platform, Kyle said the firm still has one main objective for every report it issues.
"Ease of use is a key thing to us," he said. "One of the biggest players in the credit market has five or six measures of how they look at a company. We eliminated all of that and put it into one algorithm to produce one number."
Disclosure: Some of the links in this post are 'affiliate links.' This means if you click on the link and purchase the item, I will receive an affiliate commission.
Comments
comments
Powered by Facebook Comments